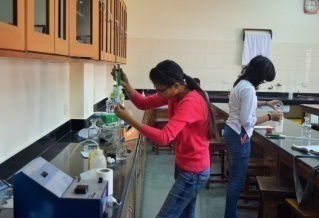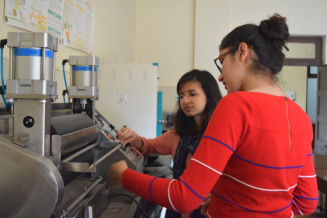 The Department has the state-of the art infrastructure with IT facilities in all the laboratories and lecture rooms. A Visualizer with a projector for overhead projection of books, articles and laboratory specimens is housed in Museum. Biotechnology and Immunology laboratory has an Image Projection System fitted on a research trinocular microscope. The air conditioned Zoology Lecture Theatre, equipped with audio-visual system, is used for organizing seminars and conferences. Besides this, College's Digital Resource Centre (DRC) with 50 Wi-Fi enabled desktops is used for Bioinformatics Classes.
Undergraduate Laboratories are well equipped for doing various experiments and practical exercises prescribed in the syllabus. Based on the theme areas covered the two labs have been categorised as:
Morphology, Ecology and Animal Behavior Lab
Physiology, Biochemistry, Cell and Molecular Biology Lab
The equipments in UG labs include 20 Nikon Binocular Microscopes, 10 Olympus Stereo-zoom microscopes, 50 monoculars and binoculars, Spectrophotometer, Centrifuges, Laminar Flow Hood, Shaker Incubator, Autoclave, Fume Hood, Water Baths, UV Lamp, Transilluminator, BOD Incubator,-20° Freezer, Hot Air Ovens, Dry Bath, Image Projection system, Electronic Balances and Hot plates.
Entomology Facility is a multipurpose room used for conducting both theory as well as practical classes and also for research. Textile Technology lab is housed in this room. Equipments include Dye bath, padding mangle, Hot air oven, Electronic balance, Hot plates.
Zoology Museum is housed in a big air conditioned room. This has a rich collection of 550 scientifically relevant zoological specimens and materials that are all well labeled, classified and properly exhibited in Museum Display Cabinets. The collection includes 300 Invertebrates belonging to different animal phyla: Porifera, Cnidaria, Platylminthes, Nemathelminthes, Annelida, Echinodermata, Mollusca and Arthopoda. There are 250 Vertebrate specimens that include fishes, reptiles, birds and mammals. A large number of the specimens are preserved in Formalin and some are mounted. There is a repository of 820 slides pertaining to histology, cytology, invertebrates' whole mounts, sections and larvae, frog and chick embryology. The entomological collection includes pinned insects and preserved specimens of insects and other arthropods. Osteological collection includes bones and skulls of fishes, reptiles, birds and mammals. In addition, with the aid of Image Projection System, Department has made a digital library of slides. A photo library of all the listed specimens is also being made for the students. Museum also houses a small department Library with 400 books, and a collection of Movies (CDs) on topics related to environment such as Global Warming, Climate Change, Ozone Depletion and Waste Management.
Research Laboratories are well equipped with latest instruments and equipments. These are:
Biotechnology and Immunology Lab is a research lab that has Animal Cell Culture Facility with the following Equipments: Bio-safety Cabinet, CO2 Incubator, Inverted Phase Contrast Microscope, Cold Centrifuge, Vacuum Pump and PCR Machine.
DSKC BioSciences Research Lab is another research lab that is extensively used by the department for conducting doctoral research. This state-of art lab is well equipped with Gel-Doc, Gradient Thermocycler, Real Time PCR, Cold Centrifuge, Flow cytometer, Nanodrop, Sonicator, -80° Freezer, Millipore water filtration system, Bio-safety cabinet, Shaker Incubator, -20° Freezer, ELISA reader, Immunoelectrophoresis unit and Electronic Balances.
DSKC UG Research Lab is largely used by the students working for different DU Innovation Projects and Star Innovation Projects.
Library Facility of the Department has 400 books and 50 e-books on various discipline of Zoology. Both the students and faculty can avail this facility for quick reference. College library has 2500 books on different themes of Zoology for reference.
Faculty rooms in the Department are ergonomically designed having workstations and personal space for storage.
Computer Facility includes 10 desktop computers with printers and one HP Laptop. The entire department is well connected through Wi-Fi to the internet. College has issued HP Net-book to all the permanent faculty members.