Faculty
Dr. Seema Aggarwal Ph.D. (Delhi University), MCA (Delhi University)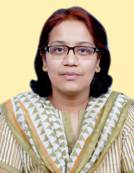 Dr. Seema Aggarwal completed her graduation in B.Sc.(Hons.), Physics from St. Stephens College, University of Delhi in 1989. She did MCA in 1992 from Delhi University. She is also recipient of All India Post Graduate Scholarship for 3 years (1989- 1992) from University of Delhi. She joined software industry in 1992 as a Software Engineer and developed software for Device Drivers, SCSI devices and Fault Tolerant Machines.She joined the Department in 1995 .


Ms. Anuradha Khattar M.Phil.(MKU), MCA(IGNOU), M.Sc.(Delhi University) Teacher- In-charge

Ms. Anuradha Khattar has done her graduation in B.Sc. (Computer Science) from Miranda House in 1987 and secured second position in the college. She joined the Department as Scientific Assistant on 20th July 1987. She pursued her post graduation studies along with her job and did M.Sc. (Mathematics) from Delhi University ( Non Collegiate) in 1990. Further, she completed her MCA from IGNOU in 2003. In April 2006, she was appointed as a Lecturer in Department of Computer Science, Miranda House.