Seminars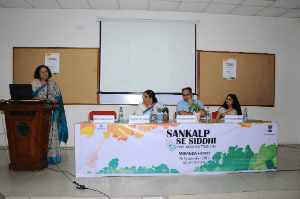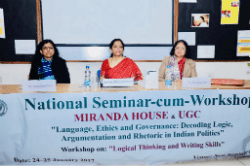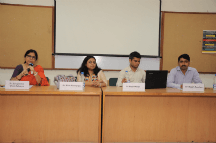 A two day UGC sponsored National Seminar on "Language, Ethics and Governance: Decoding Logic, Argumentation and Rhetoric in Indian Politics" was organized on 24 and 25 January 2017. Dr. Radhakrishnan Pillai, noted author was the keynote Speaker explored the multiple dimensions of Indian Political Thought. Smt. Nirmala Sitharaman, honourable minister deliberated on the issue of "Ethics & Governance in Indian Politics". The Valedictory Address was given by Prof. Yogendra Yadav of Centre for Studies of Developing Societies and it was chaired by Prof. Ujjwal Singh of Department of Political Science . The highlight of this event was the two day workshop on writing skills attended by almost 145 students across departments in the college. Dr. Jayashree Pillai was the convener of this seminar.
In collaboration with Indian Institute of Dalit Studies, the Department organized a seminar on the theme, "Social Exclusion and Discrimination in India" on 18 August, 2017. Dr. Sanghamitra Sheel Acharya, Director, Indian Institute of Dalit Studies, gave the inaugural speech. Dr. Khalid Khan, Assistant Professor, IIDS, spoke on the topic,"Disparity in Higher Education". Dr. Rajesh Raushan, Assistant Professor, IIDS, spoke on "Deprivation and Exclusion in Health". Dr. Mala Mukherjee, Assistant Professor, IIDS discussed the "Disparity in Employment".
A two day ICSSR funded National Seminar was on 23 and 24 April 2018. Dr. Pratibha Jolly, Principal of Miranda House, delivered the inaugural address. Prof. P.K Datta of JNU explained the importance of the constitutional morality and highlighted communalism within the ambit of constitutional morality. Professor Sanjay Kumar Director, CSDS deliberated on an in-depth understanding of election and its impact on social and political experiences of India today. Dr. Pritam Baruah highlighted on 'Constitutional Pluralism, Democracy, Representation, and Self-Rule in the Indian Constitution'. Prof Niraja Gopal Jayal of JNU provided an elaborate lecture on constitutional morality and citizenship in India. Dr. Moushumi Basu of JNU presented her talk on Neo-Liberal Developmentalism: Capitalist Development and Informalisation of Labour". Dr. Anup Surendranath of NLU, Delhi delivered lecture on the topic "Debates around Death Penalty in India". The conveners of the seminar were Dr. Skylab Sahu and Dr. Rashmi Gopi.
Lectures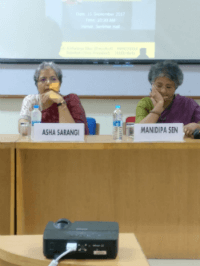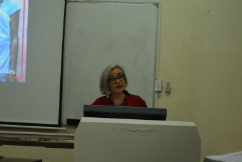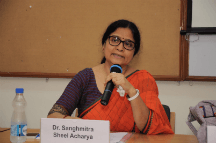 A Lecture on "Ambedkar's concept of Social Justice and Identity Politics" was delivered by social activist Vira Sathidar in the department on 22 February 2017. Dr. Rashmi Gopi coordinated for the organisation. Prof. Tulsi Patel on 'Violence against Women: Issues around Sex Selective Abortion in India' on 18 April 2017. Dr. Skylab Sahu, was the convener of the talk.
The Department of Political Science inaugurated the Special Lecture Series and organized its first Special Lecture by Professor Asha Sarangi, chaired by Professor Manidipa Sen. The lecture was held on 15th September 2017 and Ms. K.K Subha was the coordinator of the lecture.
As part of its Special Lecture Series, the Department organised a talk by Dr. Thomas Ward, University of Bridgeport, USA on the topic "India's Emerging Role as a Global Actor" On 27 October 2017.
As part of Special Lecture Series Prof. Ashok Acharya, spoke on "Equalising Opportunities: Challenges and Prospects". The lecture was held on October 30, 2017 and Dr Skylab Sahu was the coordinator of the same.
Workshops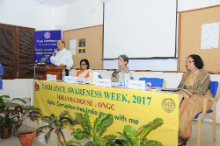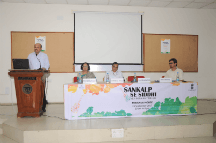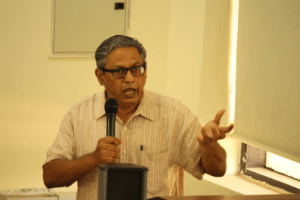 The Department hosted a five day workshop on Legal Literacy and Your Laws, Your Rights from 6 November 2017 to 10 November 2017. The workshop aimed to acquaint students with the legal mechanisms necessary to have a better understanding of the redressal systems available and equip themselves with the legal know-how. Prof. Ujjwal Kumar Singh of Department of Political Science deliberated on "The Legal System in India and Brief Understanding of Laws Applicable in India". Shri. Naveen Gupta, Officer of the Delhi Judicial Service and Additional Secretary to the Delhi State Legal Services Authority touched upon the topics of criminal justice administration and the ground realities and loopholes in applying IPC provisions to real-time situations. Ms. Anu Narula, a Supreme Court Advocate spoke extensively about gender laws and issues of domestic violence, sexual assault and the concept of marital rape. Ms. Geetanjali Goel, Officer of Delhi Higher Judicial Service and Special Secretary, Delhi State Legal Services Authority addressed the gathering about caste, tribe and laws. Mr. Abhishek Bagaria, Public Prosecutor at the National Investigation Agency, Ministry of Home Affairs, Government of India spoke about laws related to cybercrimes, anti-terrorist laws and its implications on human rights and security. Advocate Sanjeev Jha spoke about laws related to tenancy and contractual property where he deemed a contract to be anything logical which can be put down on paper. Shri. K.B Rai working as a Consultant in New Delhi Municipal Committee (NDMC) discussed extensively about the laws around filing an RTI and also about consumer rights in brief. It was organised by Dr. Bijayalaxmi Nanda, Dr. Namrata Singh and Ms. Ngurang Reena.
TULA organised its 12th successive three-day Annual Workshop on Consumer Awareness with various interactive sessions which drew participation from a number of students and faculty on 23-25 January 2018.In one of the sessions, Ms. Pushpa Girimaji, Consumer Rights Activist enlightened the students about civil society's need of vigilance and accountability of service providers. Ms. Pragya Singh Baghel and Ms. Astha Tyagi, advocates on Record Supreme Court of India gave an insight about the ground realities of service delivery and consumer rights. This was accompanied by a presentation on Intellectual Property Rights by Ms. Nishi Shabana( principal associate at Singhania and Partners LLP).On the concluding day, Mr. Ciby James and Mr. Amit Chatterjee from ASQ Ltd. unraveled the relation between cost and quality of a product. In the final session,What we have learnt? students made individual and group presentations in various creative ways. Prizes and certification of participation were given away to the winners of competitive events and participants of workshop. The conveners and co-conveners of the workshop include Dr. Jayashree Pillai, Ms. Hena Singh and Ms. Shruti Sharma.
A Four day workshop on "Diversity and Governance: Issues of Development, Gender and Social Equality" was organized on 19, 20, 26 and 27 March 2018. It was an interdisciplinary workshop attended by 78 students. Dr. Rashmi Gopi and Dr. Skylab Sahu were the convener of the event.
Other Important Events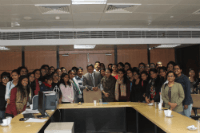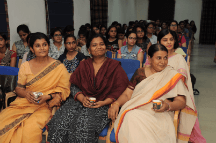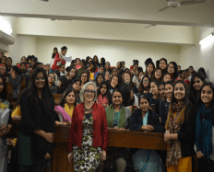 The Department Magazine, Vox Populi (Edition XI) was also published in March 2017.
The Department and TULA, Miranda House Consumer Club organized an interactive session with students in collaboration with TERI University on "Consumer Behaviour and Sustainability" on 21 April, 2017. The event commenced with the official release of SANTULAN, the annual magazine of TULA- the Miranda House Consumer Club. This was followed by the keynote address of the guest of honor, Fawzia Tarannum, Lecturer, Department of Regional Water Studies, TERI University. Fawzia Tarannum engaged in a thought-provoking discussion with the students regarding sustainable development, the water crisis and proper water management in India. The students were also shown a rather informative movie clip on Sustainable Water Management Practices which had been made by students of TERI University.
Department of Political Science organized an exhibition on "Freedom Struggle: Told and Untold Stories" on 17 August, 2017. The exhibition was followed by a round-table discussion of students with Dr. Srimanjari, Department of History, Dr. Namrata Singh, Department of Political Science and Ms. Kusuma Krishna Subha, Department of Political Science. The discussion focused on the subaltern accounts of the freedom struggle, the role of women in the Indian National Movement, the various regional accounts of the freedom struggle of India and the limitations of modern historiography.
The third-year students of B.A (Hons.), Political Science under the guidance of Dr Namrata Singh went on a field visit to Gandhi Smriti on 15 September 2017.
To commemorate 75th year of Quit India Movement and 70 years of India's independence, Miranda House organised the programme titled 'Sankalp Se Siddhi: Yeh India Ka Time Hai' on 26 September 2017. This is a joint initiative of Ministry of Human Resource Development and Ministry of Information and Broadcasting, facilitated by NFDC. The session was presided over by Dr. Pratibha Jolly, Principal, Miranda House. The inaugural address was delivered by Dr. Vinod K. Paul, Member, NITI Aayog. Mr. Rajesh Agrawal, Joint Secretary, Ministry of Skill Development and Entrepreneurship, talked about the importance of skill building among youth. Mr. Pankaj Sharma, Controller of Accounts, Ministry of External Affairs, elaborated upon the Public Financial Management System. The speakers of the technical session included Dr. Chandrachur Singh, Associate Professor, Department of Political Science of Hindu College who elaborated on the 'Ambassadorial Cosmopolitanism: Bridging the Theory Action Gap on Climate Change'. Dr. Meeta Kumar of Department of Economics of Miranda House presented a paper on the "Rhetoric of Development".
The Vigilance Awareness Week was celebrated in Miranda House on 2 November 2017. The students undertook an 'Integrity Pledge' to work together to eradicate corruption. Mr. Sandeep Sehgal, GM, Vigilance enumerated various aspects on ethical governance. He was followed by the Chief Guest, Ms. Sonali Singh, Additional Secretary, Central Vigilance Commission who emphasized the key role played by the CVC as the apex Indian governmental body to address corruption. The programme was coordinated by Dr. Jayashree Pillai.
The Department facilitated Miranda House in organizing the visit of Professor Peter Mathieson, the President and Vice-Chancellor of the University of Hong Kong. Professor Mathieson addressed the students on the topic "Shaping the Future: The Role of Global Universities in supporting the aspirations of the Sustainable Development Goals" on 8 November 2017.
Department organised an interactive session with Ms. Robin Gorna, chair of the Women's Network at St. John's College, University of Oxford on "The Right to Decide: When she decides, the world is better, safer and stronger" on 22 January 2018.