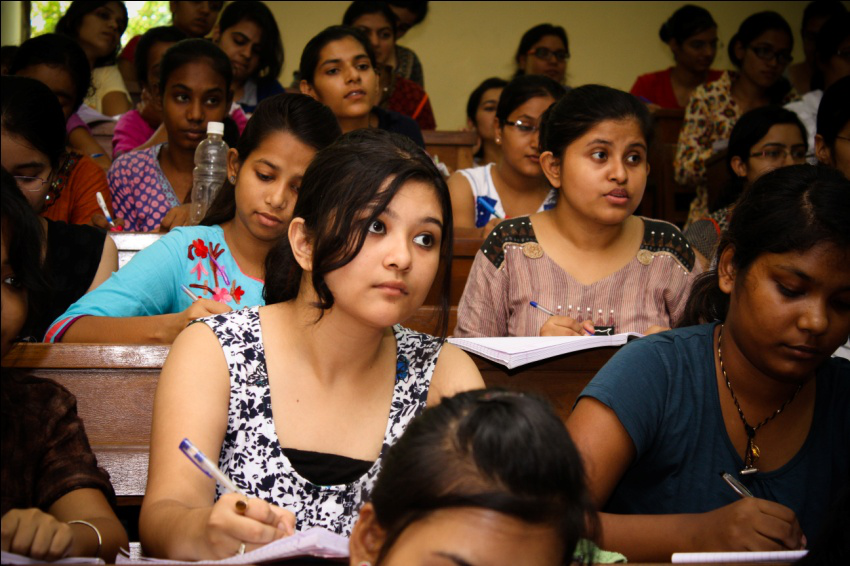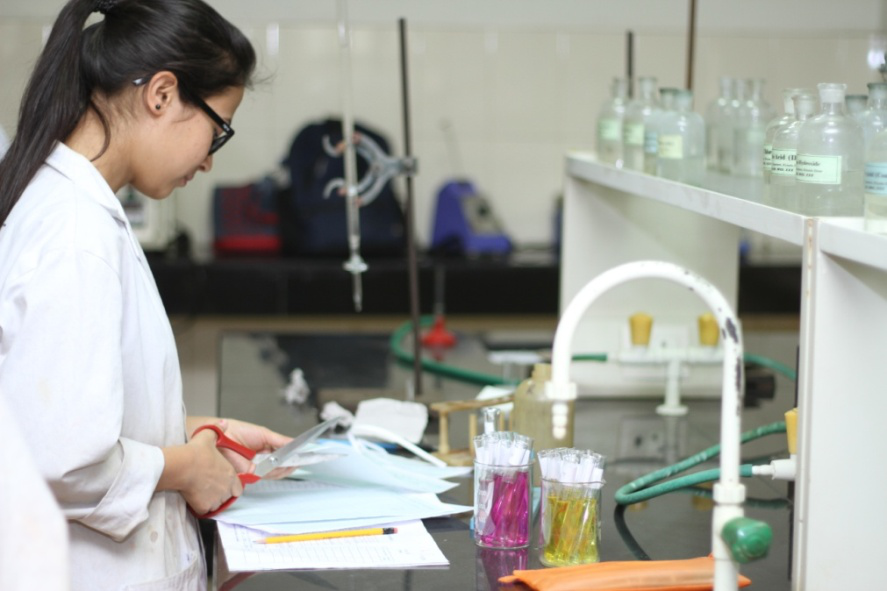 The Department of Chemistry, Miranda House was established in 1948. It currently has three modern and well-equipped chemistry laboratories. It also has an Instrumentation Laboratory with various instruments enabling the students to carry out all the experiments included in the new syllabus as well as some simple projects. Facilities of a modern computer laboratory are also available to the Department. There is a well-stocked store for apparatus and another for chemicals. The Department Library has a good collection of chemistry books which supplements the wide range of books available in the main library of the College. There is also a reading room equipped with ten computers and comfortable seating arrangement. The faculty is highly qualified and motivated. Some of the faculty members are currently involved in research and have also presented papers in international conferences. The Department has a designated laboratory space for setting up experiments undertaken by faculty as part of their research. There is also an Instrumentation Lab for this purpose with state-of-the-art instruments such as Atomic Absorption Spectrophotometer, Photocatalytic Reactor, Microwave Oven and Rotary Evaporator. A few faculty members have also authored Chemistry textbooks for undergraduate students. In keeping with the traditions of the Department, the non-academic staff is hardworking, helpful and committed.
The Chemical Society Rasayanika arranges guest lectures by reputed scientists from India and abroad. Dr A. S. Matharu, Dr Govardhan Mehta, Dr A. P. J. Abdul Kalam, Dr R.A. Mashelkar, Dr. M.G.K. Menon, the Prof. Yash Pal and Dr Samir K. Brahmachari are some of the renowned speakers who have addressed the students and faculty over the years. The Society also runs a wall magazine, publishes a printed annual magazine, Rasayani and organises the annual inter-college Chemistry Festival Pratikriya, which is enthusiastically attended by students from institutions all over Delhi.
Each year the majority of Miranda House Chemistry students graduate with first division and some of them achieve university positions. Several students receive the University Science Meritorious Students' Award every year. The Department also has a number of INSPIRE scholars in I Year, II Year and III Year. While pursuing the undergraduate chemistry programme in Miranda House, some students are selected for summer training at the IITs and the Indian Institute of Science, Bangalore. A number of Miranda House Chemistry graduates are pursuing post-graduation at the IITs and the IISc, Bangalore and some are also doing Ph D at top-ranking universities in the US, UK and Germany. Many Chemistry alumnae are faculty members in various colleges, universities and institutions in India and abroad. A number of alumnae are engaged in research work at reputed pharmaceutical companies and research laboratories in India and abroad. They are also well-represented in diverse fields such as computer applications, management, law and the civil services.
Bridge Course for the students of first year Chemistry Honours on Laboratory Safety and Handling of Equipment is organised by Department of Chemistry every year.
Teaching-Learning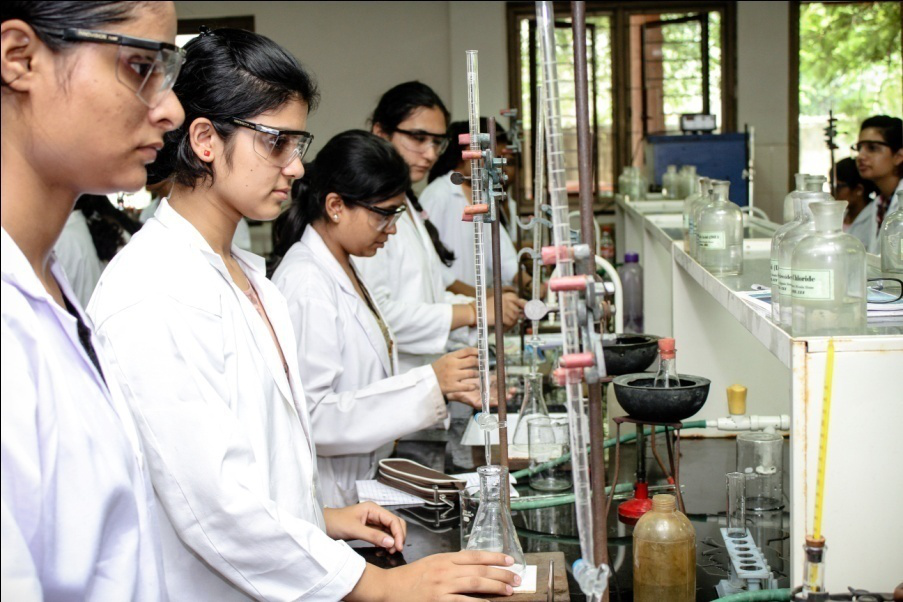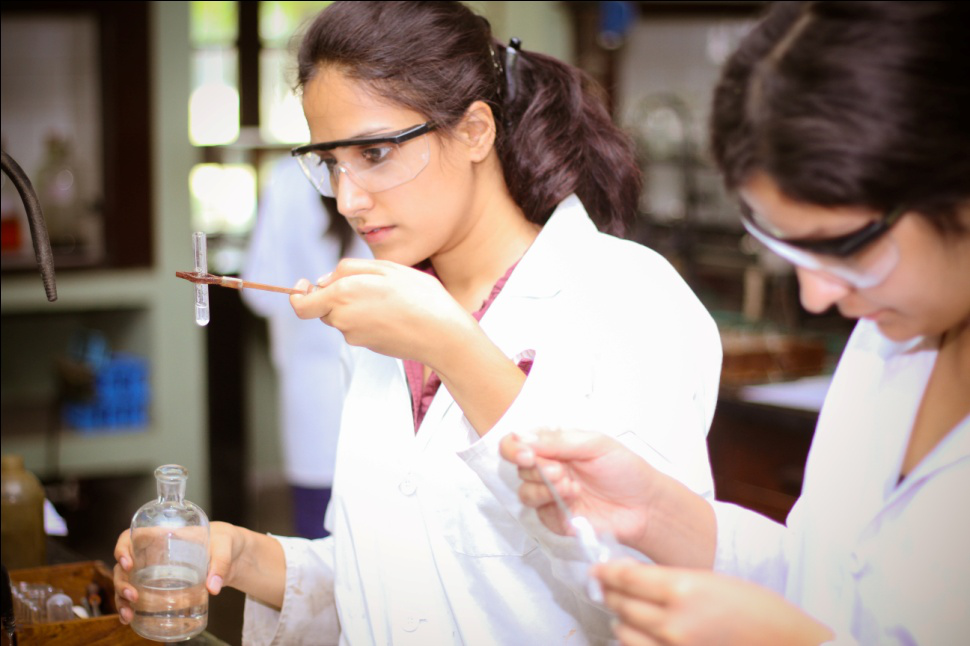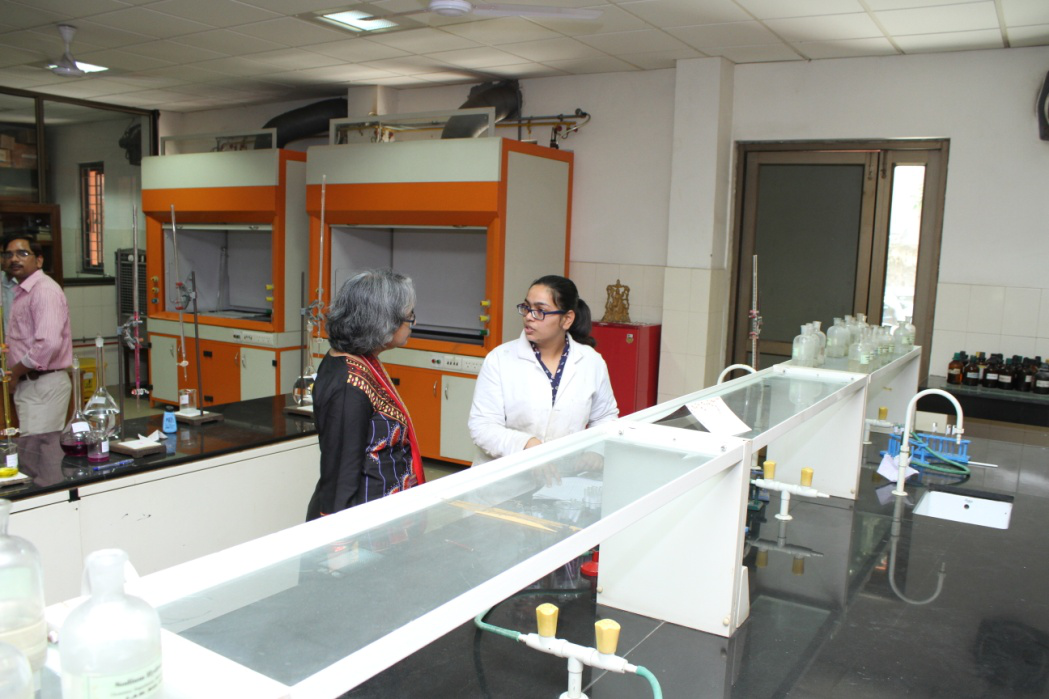 Teachers use following tools/methods to get the effective teaching and better understanding.
Active learning models
Use of PowerPoint presentations whenever possible.
Assigning presentation topics to students and holding students' presentations followed by discussion
Use of tactile models for better understanding of molecular structures, stereoisomerism and crystal structures
Testing students' level of knowledge and understanding through pre- and post-lecture and pre- and post-lab quizzes
Providing students additional study material, practical handouts and Question Banks
Capacity Building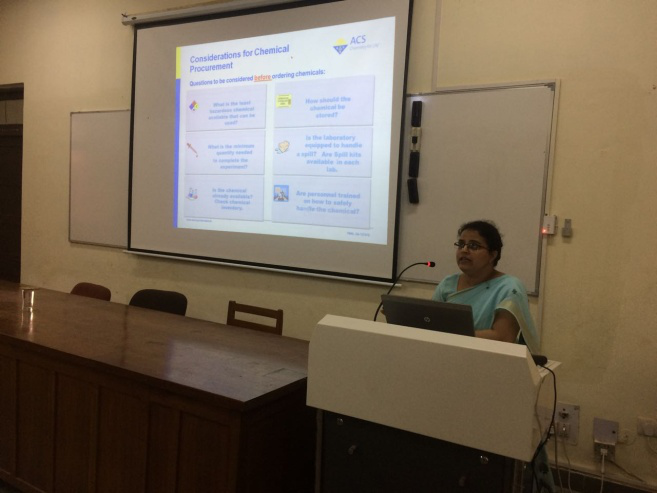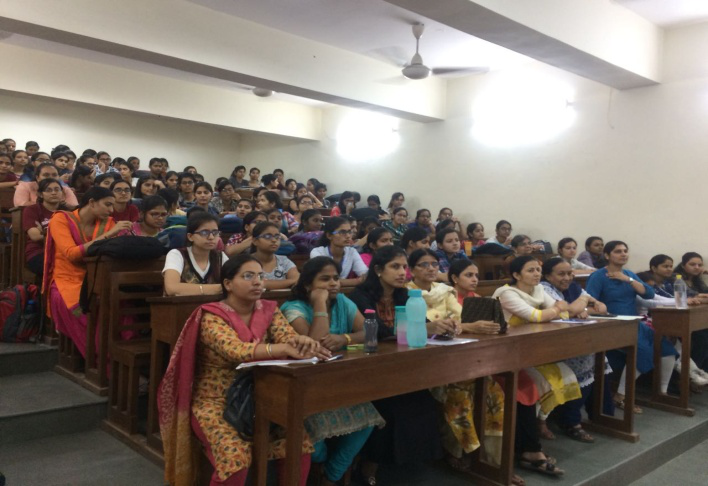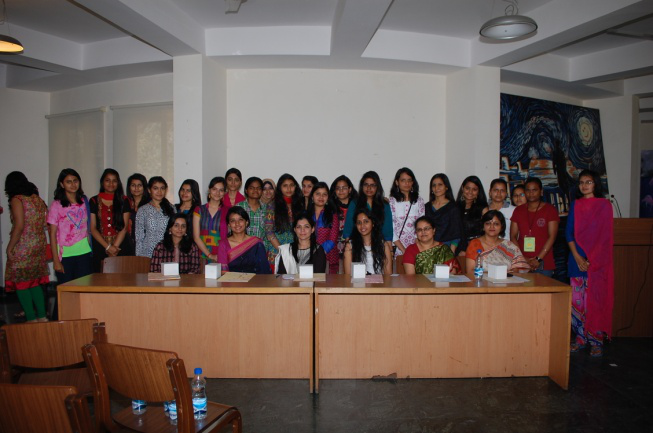 Department of Chemistry organises conferences/hands–on workshops for students every year.
Some of the recent ones are listed below:
Every year in summer vacations, summer workshop is organised for undergraduate students of Delhi University for six weeks.
Certificate Course in Nanochemistry is conducted every year.
Bridge Course on Lab Safety and Handling of Equipment for I Year students is organized every year in the first week of August.
INSPIRE Internship programme was held for school children in 2010, 2012, 2013, 2015, 2017.
Many Chemistry students and faculty members participated in and helped to organize the Biodiversity for Everyone's Life Conclave held in August 2018 and the INSPIRE Science Conclave held in January 2019.
Symposium on Empowering Women in Chemistry as a part of the Centenary Celebration of the International Union of Pure and Applied Chemistry (IUPAC) in February 2019.
Indo-Hungarian symposium on Recent Advances in Chemistry and Biology (INHCAB-2017) in December 2017.
One-day workshop on using Gaussian software in Undergraduate Education in 2017
One-day workshop for school teachers on Online Labs for school experiments in collaboration with Amrita University, Kerala in 2017.
In these workshops, students learn the use of a variety of software such as ChemDraw, Argus Lab, Gaussian, basic concepts associated with interdisciplinary topics and also participate in oral paper presentation and poster presentation competitions.
Chemistry students actively participate as mentors in INSPIRE programme for high school science students. Chemistry undergraduates are usually associated with five different workshops for high school students under INSPIRE. Every year, several renowned Professors of Chemistry and associated fields are invited to deliver talks to the students. During Pratikriya, the annual Inter-college Chemistry Festival organised for the students, Rasayanika hosts an inter-college Scientific Paper Presentation Competition Eureka! Pratikriya also has other co-curricular activities such as Prayog, the labwork competition. The Departmental magazine Rasayani provides a platform for students to write articles on diverse scientific topics and about their experiences in college. Students and teachers went to Dalhousie, Khajjiar and McLeod Ganj in 2018, Rajasthan in 2017, Kullu-Manali in 2016, Mussoorie in 2015 and Chandigarh in 2013 for education-cum-sightseeing field trips. The field trips also included visits to TERI Gram, Gurgaon, TERI University, New Delhi, National Institute of Solar Energy, Gurgaon, ITC Green Centre, Gurgaon, Airports Authority of India Paper Recycling Unit, Ruchi Vihar, Vasant Kunj, New Delhi and other interesting sites.
Student Progression
Student Progression
Of % enrolled(approximately)
UG to PG
90
PG to Ph.D.
20
Ph.D. to Post-Doctoral
15
Employed

Campus selection
Other than campus recruitment

80
Entrepreneurship/Self-employment
5
Academic performance of B.Sc. (H) Odd Semester 2018-19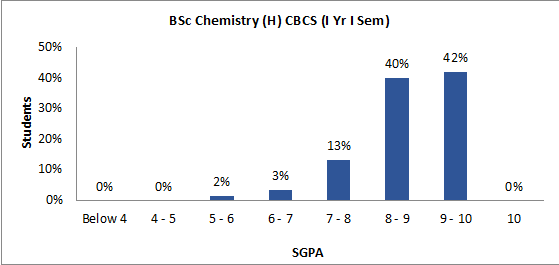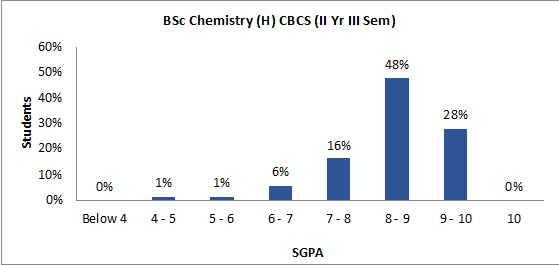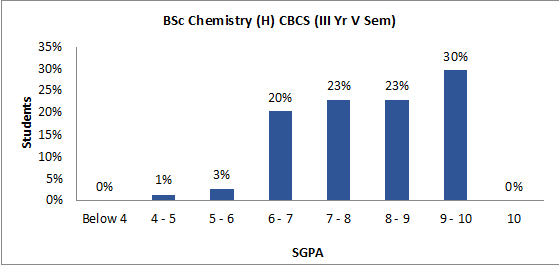 Faculty Achievements
The department of Chemistry has highly motivated Faculty. Faculty members got many innovation projects and awards. Some Faculty members participated in international conferences outside India for paper presentation and delivered invited talk.Dr. Bani Roy and Dr Mallika Pathak were a part of the 9-member team to receive the Australian Leadership Awards Fellowships (ALAF) to participate in the project Building Leadership Capacity in Undergraduate Science Teaching at the University of Sydney, Sydney, Australia, in April 2013. Dr Kalawati Saini was invited for delivering a lecture in the European Advanced Material Congress 2017, Sweden. Dr. Poonam was invited for her talk in a Three-day International workshop organized by Hungarian Academy of Sciences in Mátrafüred, Hungary in May, 2019.
S.No
Name Of Teacher
Year
Award
1.
Dr. Mallika Pathak
2016

Most Innovative Idea certificate for Innovation Project MH 306 entitled Design of Affordable Water Purification Devices Using Green and Eco-friendly Silver Nanoparticles; 2016
Certificate of Appreciation for Poster Presentation from University of Delhi for Innovation Project MH 306 entitled Design of Affordable Water Purification Devices Using Green and Eco-friendly Silver Nanoparticles; 2016
Teaching Excellence Award for Innovation for Innovation Project MH-203 entitled Efficacy of Natural Dyes in Dyeing and Imparting Antimicrobial Properties to Different Textile Materials.

2015

Best Innovative Idea certificate for Innovation Project MH-203 entitled Efficacy of Natural Dyes in Dyeing and Imparting Antimicrobial Properties to Different Textile Materials under Theme-Scientific Arena at Innovation Plaza, Antardhwani2015
Best Display Award for Innovation Project MH-203 entitled Efficacy of Natural Dyes in Dyeing and Imparting Antimicrobial Properties to Different Textile Materials under Theme-Scientific Arena at Innovation Plaza, Antardhwani 2015

2014

Poster presentation award for Rainbow of Natural Dyes: An Eco-friendly Approach presented in National Symposium on Environment: Challenges and Awareness, Deshbandhu College, University of Delhi, New Delhi

2013

AusAID Australian Leadership Award Fellowship (ALAF) : Building leadership capacity in undergraduate science teaching in India (Host Organization: University of Sydney)

2.
Dr. Kalawati Saini
2019

Best Microscopy award received by Mona Saini, JRF in DBT research Project, for oral presentation on " Determination of cellular structure and morphology of medicinal plant by using Folds-cope Microscopy and Scanning Electron Microscopy", in National Conference on Advance in Microscopy and Foldscope, organized by Department of Biotechnology, Motilal Nehru National Institute of Technology (MNNIT), Allahabad, 15-16 March 2019

2017

IAAM Scientist Medal of year 2017 award by International Association of Advanced Materials, USA for Notable and Outstanding Research in the Advanced Materials Science & Technology

2016

Certificate of appreciation for Innovation Project MH 310 entitled Sugarcane to Nanoparticles: Green Nanotechnology - the Future,at the Convocation Ceremony, University of Delhi, 19 November 2016.
Best Poster Award in National Conference on Green Chemistry and Sustainable Technology for Society, organized by Department of Chemistry & Electrical and Electronic Engineering, Government Women's Engineering College, Ajmer,11-12 January 2016

2015

Second Prize, Poster Presentation, National Conference Advanced Functional Material and Their Applications, Government Women's Engineering College, Ajmer, 10-11 December 2015.

3.
Ms. Nutan Rani
2016

Certificate of Appreciation for Innovation Project MH-307 entitled Antimicrobial finishing of textiles using eco-friendly bioactive agents, at the Convocation Ceremony, University of Delhi,19 November 2016.

4.
Dr. Malti Sharma
2016

Most Innovative Idea certificate for Innovation Project MH 306 entitled Design of Affordable Water Purification Devices Using Green and Eco-friendly Silver Nanoparticles
Certificate of Appreciation for Poster Presentation from University of Delhi for Innovation Project MH 306 entitled Design of Affordable Water Purification Devices Using Green and Eco-friendly Silver Nanoparticles

5.
Dr. Smriti Sharma Bhatia
2016

Certificate of appreciation for Innovation Project MH 310 entitled Sugarcane to Nanoparticles : Green Nanotechnology - the Future, at the Convocation Ceremony, University of Delhi, 19 November 2016.

2015

Selected for Faculty Training Program,University of Delhi to doa one-year Masters course in Nanoscience and Nanotechnology at the University of Glasgow, UK.

6.
Dr. Poonam
2019

Adjunct-Assistant Professor, Department of Medicine, Loyola University Medical Center, Health Sciences Division, Chicago, USA. (2019 –2022)
Received Distinguished Investigator Award during International Conference on "Integrative Chemistry, Biology and Translational Medicine" organized by Center for Global Health, Hansraj College, University of Delhi, India & Loyola University Chicago Stritch School of Medicine, USA in association with TCI Chemicals (India) Private Limited on 25-26 February 2019
Best Poster Award received by Charu Upadhyay (Ph.D. Scholar) for Poster Presentation on "Synthesis, Characterization and Activity Profile of New Analogs of Hydroxyethylamine" at International Conference on "Integrative Chemistry, Biology and Translational Medicine" organized by Center for Global Health, Hansraj College, University of Delhi, India & Loyola University Chicago Stritch School of Medicine, USA. (25-26 February 2019)
Best Poster Award received by Sumit Kumar (Ph.D. Scholar) for Poster Presentation on "Development of N-hydroxyamide substituted guanidinooseltamivir as Anti-influenza agents" at International Conference on "Integrative Chemistry, Biology and Translational Medicine" organized by Center for Global Health, Hansraj College, University of Delhi, India & Loyola University Chicago Stritch School of Medicine, USA. (25-26 February 2019
Visiting Fellow, Department of Pharmaceutical Chemistry, University of Debrecen, Hungary (21-29 May, 2019)

2018

Visiting Fellow, Department of Pharmaceutical Chemistry, University of Debrecen, Hungary (11-18 June, 2018)
Best Poster Award received by Rupal Garg (BSc. (H) II Yr.) for Poster Presentation on Detoxification of Persistent Pesticides; Urgent need for Environment protection" at Indo-US Colloquium on Recent Developments in Interdisciplinary Research, Department of Chemistry, Hansraj College, University of Delhi, Delhi (2 July, 2018).
Adjunct-Visiting Senior Researcher, Laboratory of Computational Modeling of Drugs, South Ural State University, Chelyabinsk, Russia. (2018 – 2019)
Distinguished Alumnae
A number of students after completing their post graduation and Ph.D. serve as college and university teachers and research scientists. Many complete MBA and go on to become managers.Yet others become IAS officer, Air Force pilots, lawyers, computer professionals etc. Some students get extremely prestigious awards and scholarships to enable them to carry out postgraduate and doctoral studies abroad. Some recent alumnae doing Ph D abroad are:
Aditi Krishna Dave (2012),, Ph D Archeological Sciences, Max Planck Institut, Germany
Monika Chongtham (2012), Ph D Neuroscience, Max Planck Institut, Germany
Tvisha Misra (2007), Ph D in Chemistry, University of Zurich, Switzerland
A large number of alumnae hold academic positions in Universities/research institutes across the world. A small illustrative list is given below:
Ms Neetu Singh (2015), IAS officer
Neha Batta (2006), Officer Sales and Marketing, Jaypee Greens, Real Estate division of Jaypee Group
Soumya Rastogi (2006), Assistant Professor, Department of Chemistry, University of Maryland, USA
Anshita Sudershan ( 2005), Scientist, SABIC, Bangalore
Linda Kshetrimayum (2004), Group Manager in a multinational pharmaceutical company's global patent team
Chaoba Phuritshabam (2003), Deputy Manager in a multinational pharmaceautical company's patent team
Aarti Khanna (2003), Assistant General Manager, Hindustan Times ( Media Marketing Division )
Nabamita Das Gupta (2002), Manager, State Bank of India
Sonia Gandhi (2001), Scientist D, Institute of Nuclear Medicine and Allied Sciences, Delhi
Pritesh Dagar (2001), Artist and Founder, Art'zire, Bangalore
Deedhiti Saikia (2001), Founder Director, Laxmipriya De`cor, New Delhi
Deepshikha Angris (2001), Senior Scientist, Labcyte and Stanford School of Medicine, USA
Mamta Kaushik ( 2001), Data Analyst, St Vincent's, Melbourne, Australia
Debodhonyaa Sengupta (2000), Associate Attorney at Dentons US LLP, USA
Vasudha Sharma (1999), Professor of Chemistry, Valencia College, Orlando, FL, USA
Dr. Dipti Kakkar (1997), Scientist E, Institute of Nuclear Medicine and Allied Sciences, Delhi
AmritKaur Sakhi (1992), Scientist, Institute of Public Health, Oslo, Norway
Piyali Dasgupta (1992), Associate Professor, Joan C Edwards School of Medicine, Marshall University, West Virgina, USA
Dr. Sumita Singh (1991), Professor, Department of Chemistry, Everett Community College, Washington, USA
Ms Gitanjali Gupta (1991), IAS officer has received the MHAA Excellence and Achievement Award in March 2017
Sonali Sinha (1990), Attorney-at-Law and Legal Strategist, Humira, USA
Dr. Mamta Sharma(1988), Principal, Aditi Mahavidyalaya
K.V. Lakshmi (1986), Chairperson, Department of Chemistry and Chemical Biology Rensselaer Polytechnic Institute, Troy, New York
Prof. Shobhona Sharma (1973), Senior Professor and Chair, Department of Biological Sciences, Tata Institute of Fundamental Research, Mumbai