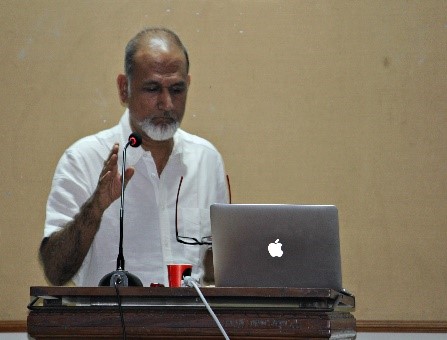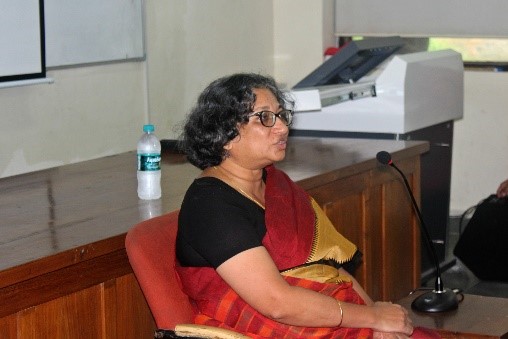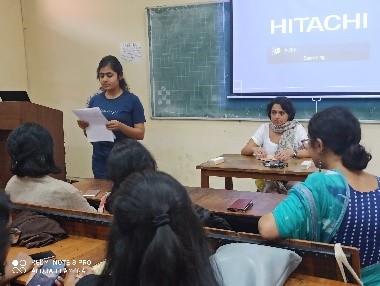 The Department of Sociology offers an undergraduate three years Honours course and Generic Electives to other Honours courses. The department was started in 1974. It trains students to develop a 'sociological imagination' and to make connections between the private and the public domain. The department has consistently been producing two or three University rank holders from each class every year. Equipped with these skills our students move on to successful postgraduate programmes such as social work, sociology, mass communication, human resource management, development studies, and law in the best universities all over the world. Our students find placement in diverse fields such as the media, publishing houses, the corporate sector, the public sector, NGOs (national and international), research, and many other sectors related to development. The students of the Department have represented India at International Youth Exchange Forums, World Youth Forum and as UN volunteers.
Teaching-Learning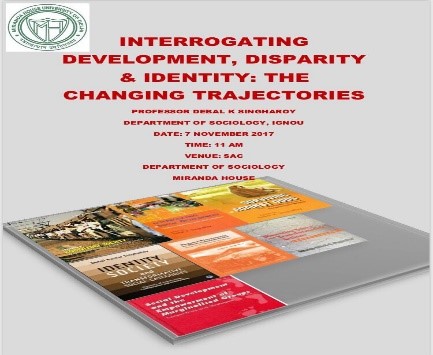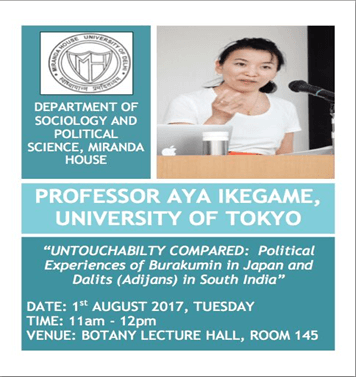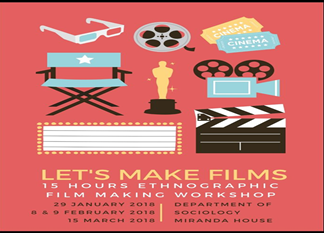 The uniqueness of Sociology demands that creative and imaginative methods are adopted to teach students. The Department believes in the adage that Sociology surrounds us and that the only way to be truly sociological is to have dialogue with one another. Therefore, the classroom teaching is not top down but is done in an interactive way through the use of chalk and talk, newspaper analysis, films, multimedia and field visits. One of the first lessons given to the students is based purely on visuals. Visual methods provide a means to understand the practices of representations as cultural texts, to develop interpretations of meanings in socio-cultural contexts, and to decode images of social relations and individual experience. These methods applied along with reading the relevant texts drive student motivation and interest in learning, and induce sociological imagination and critical thinking. There are also invited lectures, panel discussions and seminars on themes and issues pertaining to the syllabus as well as sociologically important.
Capacity Building

2018-19
The Sociology of Department for the session 2018-19 was engaged in a multitude of events, the first one being that of the Freshers for the incoming batch of 2018-2021. On a more educational note, the first talk hosted by the Department was one on "Why surrogates do not want a ban on surrogacy?" given by Professor Tulsi Patel, a former Professor at Delhi school of Economics, on August 14, 2018. She started her talk on the kind of relationships that now takes place in society, later she moved into an interesting phenomenon of surrogacy which is a societal culmination of relationships into childbirth. She spoke of the technologies that came about and its impact on the Indian context and its reaction towards it. She concluded her talk by speaking of the perspective of the surrogate mothers and it is indeed a pertinent perspective. In the new age society where freedom of choice is revered, one needs to understand the circumstances of those who chose surrogacy in the face of its rising commercialization and commodification.
The second talk that was hosted was on the topic "Performance at Public and Cultural Sites Democracy and the People" held on 7th September, 2018. The speaker was Bishnupriya Dutt, a former actress and a director based in Kolkata and is currently a professor at the Arts and Aesthetics Centre, Jawaharal Nehru University. She spoke of the rise of popular culture in democratic societies and how it could often go against the democratic culture in itself. Some interesting topics she touched upon was "The Culture of the Left" manifested in the study of the commemoration of the October Revolution in the present decade to bring back the ideal of social equity. But the dual practices of ionization and iconoclasm reflect the existence of a non-linear narrative. What is then essential is to create cultural manifestation which would defy the binary of ionization and iconoclasm and develop a self-reflexive critique of the failures of socialism.
On 18 September 2018, Oxfam, through its associated NGOs Mittika, Ismat, Humsaa, Team Zero and Youngminds, presented to the audience stirring narratives of women in Delhi through their workshop which was titled "Celebrating the Narratives of Women." The stories were enacted by Humsaa in a nukkad natak style and showed how women have defied the diktats of society, have struggled constantly to sustain themselves in the face of backlash, and have also been able to survive admirably. This was followed by an interaction with the audience who spoke of their hopes and desires that they aimed to fulfill in Delhi in the face of difficulties, which each gave the other support by listening and by understanding.
Another event was conducted in collaboration with Lakshita, the enabling society for visually challenged students of Miranda House. It was held on 26th September and was a day of fun-filled activities aimed to sensitise one to the struggles faced by those who were visually challenged and how they overcame it. Compassion and understanding, indeed, comes not from sympathy but rather empathy.
The Department of Sociology, Miranda House celebrated its annual festival UTOPIA on February 8, 2019. Themed "Magic, Science and Religion", (...remembering Bronislaw Malinowski maybe?), the day started with Professor Roma Chatterji's (Department of Sociology, Delhi School of Economics) talk on "Myths in Gondi culture" wherein her focus was on the theme of abduction in Balmiki's Ramayana and the interpretation of the same among the Gonds of Madhya Pradesh. Chatterji's talk proved to be quite thought provoking for the budding sociologists who audienced the talk. Among the many interesting anecdotes that she shared, one that was particularly interesting was how Sita, in the Gondi version of this classic is not the docile, damsel in distress; she is portrayed as a character with many shades such as that of mystery and a great focus is on the playful (often with some sexual undertones) "dewar bhauji" relationship shared by Sita- Laxman.
Following this engaging talk, the "HARRY POTTER QUIZ" felt like a breath of fresh air. No wonder, when the theme is magic, a visit to the enthralling world of Potter seems mandatory! Potter heads from a number of other institutions turned up making the day more enjoyable with their presence. Not forgetting the number of UPSC aspirants that the Sociology family, Miranda House have, the department hosted a "UPSC CSE PREP SEMINAR" which was conducted by the Khan Study Group, which is not a new name when it comes to preparing for UPSC.
Quite contented with the Chinese main course, the students headed for the second last even for the day: IZHAAR POETRY SLAM. The event seemed to very well fit the theme. Magic. The young, vibrant poets indeed created magic; the words the spells and the Mike? The magic wand!
What else could have given the best ending to UTOPIA 19 if it wasn't the open mic? Some immensely talented people made the audience's hearts skip a beat whether it's with their performances on the ukulele or beat boxing for that matter!
As endings always pave way for new beginning, with the beautiful end of Utopia 19, the department awaits the arrival of Utopia 20!
2017-18
Projects are not a mandatory part of the curriculum. However, since its inception the Department has strongly encouraged students to undertake project work. 100% of the first year and third year 100% do a project. In the second year they all make short ethnographic films. The choice of projects is collaborative with the faculty, and the projects are designed to promote an understanding of the subject across papers. Regular series of lectures are held by the faculty members to teach students techniques and methods of sociological research. The projects involve fieldwork and the use of various research tools like questionnaires, interview schedules, focus group discussions, case studies, film making, social media, secondary sources of literature and also to make use of techniques of sampling. They are assessed on full class interactive presentations. They also make short ethnographic films. These films are available at Sociology Ethnographic Films. The Project reports of the films are available in the Research Compendium. The students also have an online magazine The Lighthouse with contributions from students. The magazine is available here. As a part of capacity building we encourage students to learn Sociology hands on. A number of our students have been regularly interning with Neeti AAyog and NGOs, like Pravah, Goonj, Swechha, Centre for Media and Communication and Himalayan Environmental Studies and Conservation Organization, to name a few. Within the college the students have been members of NSS and the Enabling Unit.
Student Progression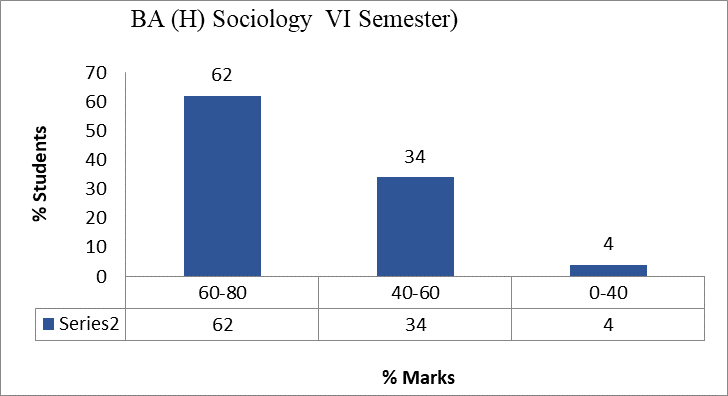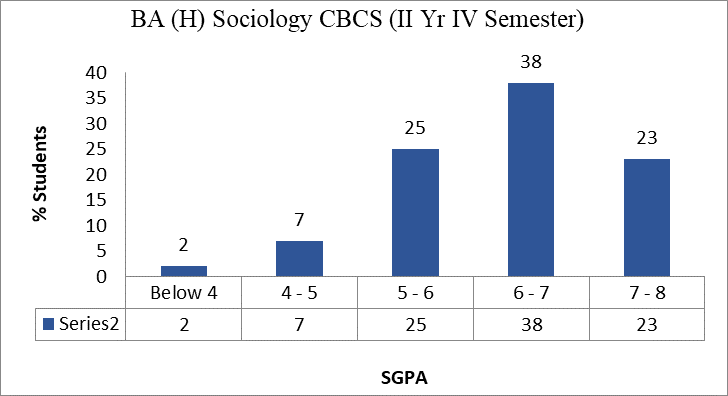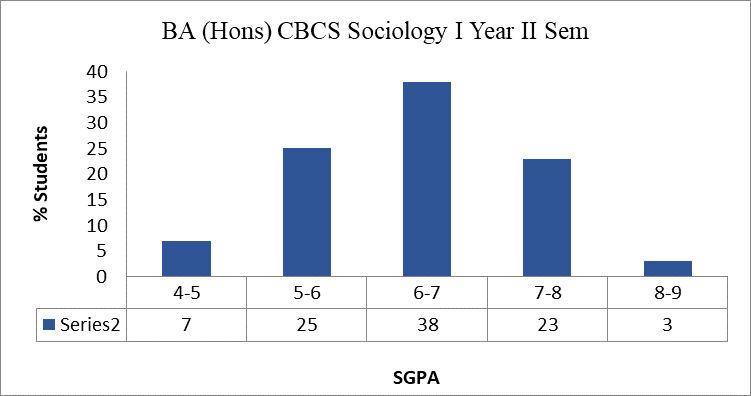 Each year students do well in the University exams. Ms. Sumra Alam (2014-17) was 1st in the University; Pragya Mahajan (2014-17) a visually challenged student was 7th in the University. Ritu Konsam (2013-16), Commonwealth Scholar reading MSc Politics of Conflict Rights and Justice at SOAS, University of London; Amrita Sengupta (2007-10) won the Chevning Scholarship to pursue a one-year Masters at Oxford, 2015; Ankita Gupta, won the Teach for India Fellowship 2017-18; Mahima Sharma (2013-15) received Times Leadership Award for Community Engagement in 2014; Eisha Roy (2012-2015) M.A. Development Studies, Sussex, 2016; Ambassador, King's College London, 2013-2014 and 2014-2015; Ambassador for Peace, Universal Peace Federation, United National Economic and Social Council, 2014-2015; Delegate in Italy, International Leadership Programme with United Nations, 2014-2015; Ritika Sonam won the Erasmus Mundus Scholarship, funded by the European Commission and organized in partnership with some of the most prestigious universities in Europe and India, 2011-2012.
Faculty Achievements
2018-19
1) Dr Reema Bhatia, Associate Prof.
Seminar Participated in:
Knowledge, Development and Politics in Post-Colonial India: Contestations in State, Market and Civil Society" 1st February, Department of Political Science, University of Delhi.

Resource Person
Associated with National Institute of Open School Learning (NIOS) in reviewing and formulating the syllabi on Gender and Society.
Resource person for National Institute of Open School Learning (NIOS) for video programmes on Sociology
Publications
2019: Book Adaptation, Sociology by John Macionis. Pearson New Delhi.
Book Review
2018: Manviyan sambandhon ki marmik dastan (A Tale of Human Relationships: Review of Cancer Train by Nachhatar). Hans, October 2018, Pp 82-83.
2) Dr. Binu Sundas, Faculty
Delivered Lectures

Gorkhaland Movement and it's Rhetoric, Miranda House, 10th October 2018
"Fruits and Vegetables Market in India: Policies, Marketing and Actors" 27th October 2018, Hiroshima University, Japan
"Food Availability, Consumption Behaviour and Bring back value to Food" on 29th October 2018, 119 Study Session of the Development and Cultural Change Forum, Graduate School for International Development and Cooperation, Hiroshima University, Japan.
"The Politics of 'the field' and field methods" St. Joseph College, Darjeeling, 16th February 2019
3) Dr. Anasuya Chatterjee, Faculty
Paper in Conference/Seminar

Presented paper 'Different Spaces, Unsafe Spaces: Diversity, Order and Threat and the 'Musholman Paras' of Kolkata, organized by the Collaborative Research Centre 923 'Threatened Orders', University of Tubingen at Tubingen, Germany, 10th-12th, 2018
2. Presented paper 'Ghosts of Partition? Muslim Identities in Contemporary Kolkata' organized by the AAS-in-Asia at the India International Centre (IIC), New Delhi, 5th-8th July, 2018.
2017-18
Dr. Reema Bhatia was awarded the Distinguished Teacher Award by the University of Delhi, 2009. She was a UGC Research Fellow for five years. She has successfully completed two innovation projects under the Delhi University and has guided a team of 20 students for the projects. She has organised several National and International Conferences. In addition she has presented several papers in national and international conferences.
Dr. M. Kamminthang was awarded a visiting research scholarship at the Graduate Programme for Transcultural Studies (GPTS), Cluster of Excellence: "Asia and Europe in a Global Context", University of Heidelberg, Germany (Nov 2008-Jan 2009). He has presented papers at several national and international conferences.
Dr. Avantika Berwa, Dr. Binu Sundas and Dr. Anasua Chatterjee participated and presented papers at several national and international conferences.
Distinguished Alumnae
After graduating from the Department of Sociology, Miranda House many of our students pursue post-graduation and doctoral programmes in many of the institutes of higher learning both within India and outside of India. Our representation can be seen in universities like the University of Delhi, Jawaharlal Nehru University, and South Asian University, Jamia Millia Islamia, Ambedkar University, Tata Institute of Social Sciences, Ashoka University and many others in India. Many of our students have also gone to pursue their higher learning at London School of Economics and University of Manchester, University of Oxford, University of Cambridge and many other institute of repute.
Some of our alumnae in academics are
Professor Susan Visvanathan at Centre for the Study of Social Systems, Jawaharlal Nehru University
Professor Ravinder Kaur at IIT, Delhi
Dr. Radhika Chopra at Delhi School of Economics
Dr. Abha Chauhan, University of Jammu
Dr. Azailu, University of Hyderabad
Dr. Ravtosh Bal, Visiting Lecturer, Duke Center for International Development, Sanford School of Public Policy, Duke University, Durham, NC Postdoctoral Fellow, Center for Engineering in Society, Concordia University, Montreal, Canada
Dr. R Rajyalaxmi, Associate Professor, Sociology, JDMC, University of Delhi, Delhi.
Some of our recent alumnae in the civil services include
Ms. Preeti Agrawal is a SSPO at the Department of Posts;
Ms. Ananya Kulshreshtha is an Assistant Commissioner Income Tax;
Ms. Megha Sidhu is an Assistant Commissioner Indian Revenue Services;
Ms. Rosy Talukdar is an Assistant Commandant, Assam Police Services.
In the banking sector we have
Ms. Shilpa Goyal is an Assistant Manager at Union Bank of India;
Ankita Sharma is a Manager at SBI.
Ms. Amrita Sengupta is working as Senior Consultant at Capgemini Consulting - Digital Transformation Institute, Bengaluru.
Ms. Anushree Bardhan is an Associate - Ramachandran and Associates, The Law Firm.
Ms Silpa Shukla, Eminent Theatre Artist and Bollywood Actor is also from our department.